Center Assessments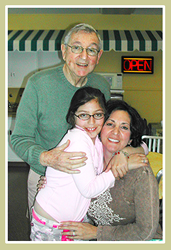 Center Assessments are for students who have highly complex behavioral and/or learning profiles, and for whom there may be diagnostic challenges that cannot be addressed through local resources. The assessment is conducted at the Diagnostic Center and employs a transdisciplinary team to assist the school in answering educationally-related diagnostic questions. The assessment typically requires two to four days to complete, and when appropriate, may include an observation of the student at the school site.
A parent/guardian is required to accompany the student for the entire assessment.
Both parents and/or caregivers are encouraged to come, but we ask that siblings stay at home. Lodging and meals (breakfast, snack, lunch, and dinner) are provided for families who live 50 miles or more away. Lodging is provided at the Fairfield Inn and Suites located in Rosemead, California (hotel information). Families who live closer than 50 miles commute daily and are provided snack and lunch [sample lunch menu(PDF)]. During the course of the assessment, parents observe through one-way mirrors. Parent involvement is an integral part of our assessment process. Often, parents are asked to participate in parts of the assessment.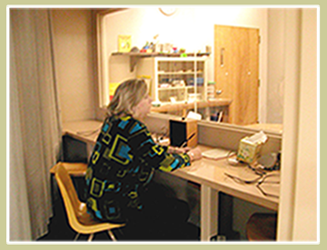 Six weeks after the assessment, a parent/staff conference is held at the Center to share the assessment results and recommendations. Parents and school staff are encouraged to invite all interested parties to attend. A comprehensive written report is distributed at the conference. This report includes assessment findings and responses to the referral questions. Detailed recommendations for educational programming are almost always provided.
---
What to Expect During a Center Assessment
The Diagnostic Center,
Southern California

You are going to the Diagnostic Center. At the Diagnostic Center, a group of people called an assessment team will do activities with you to learn about what you are good at and what you might need help with.
---
What students had to say about their visit to the Diagnostic Center:
My Week at the Diagnostic Center
"The Diagnostic Center is a place to help you. They'll test you on certain stuff. Some stuff is cool and the teachers are very polite and nice. You don't have to worry (Call me to see how your first day was)."
The Cool Stuff
"You get cool prizes, play cool games, get to ask questions if someone reads to you, you figure out the mystery. I'll tell you all the details."
The Teachers
"The Diagnostic Center specialists like working with kids. They will ask many questions, and have you do many activities. They are learning about how you learn.
No answer is wrong, everything you say and do simply helps them learn about you. If you get tired during your session, the specialist will give you a break. They will make your session as fun for you as possible!
I like the Diagnostic Center people! "